You've heard it said before, People buy from people.
In today's society, a great professional portrait is no longer a luxury. It in a necessity.
People want to do business with a REAL person, someone they see as trustworthy and approachable. Having an impeccable professional portrait is the first step in setting yourself apart from your competition.
Whether you need a new image for LinkedIn and your business cards or you're an actor looking to update your resume image, we've got you covered!
Inc. Magazine suggests investing at least $200 in your professional images and finding a photographer who will understand your needs. BUT for a limited time, when you book your session with us, you'll only pay $150!
That's a $100 savings off our basic package, which includes:
– Unlimited exposures
– 1-2 Set ups/looks
– Unlimited exposures
– Online proof gallery
– Choice of 5 professionally retouched images on disk, with print rights
Space is limited, so book yours today!
If our basic package isn't exactly what you're looking for, you can take 10% off our other professional headshot packages!
Email us today to book your session: info@agphotographix.com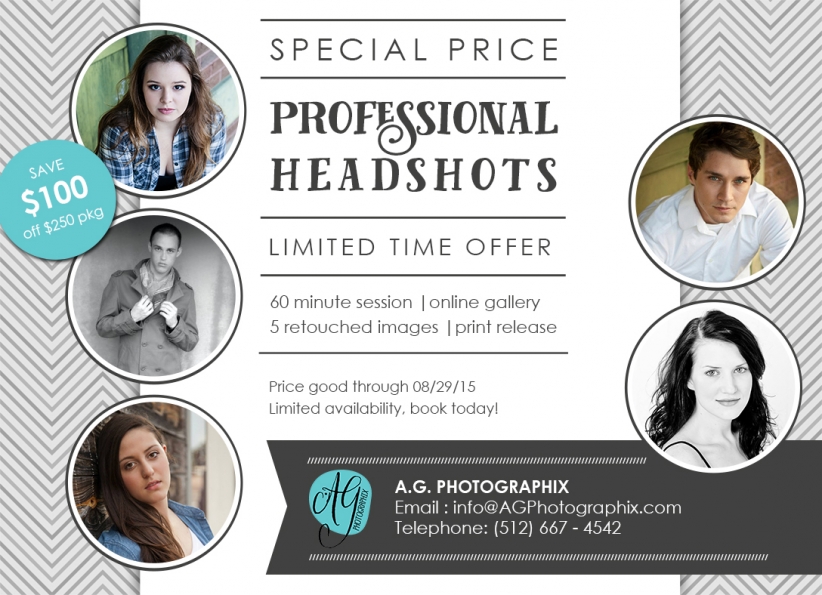 **Offer good for session locations within 20 miles of Beaumont, Texas. Areas outside 20 miles are subject to a travel fee.**