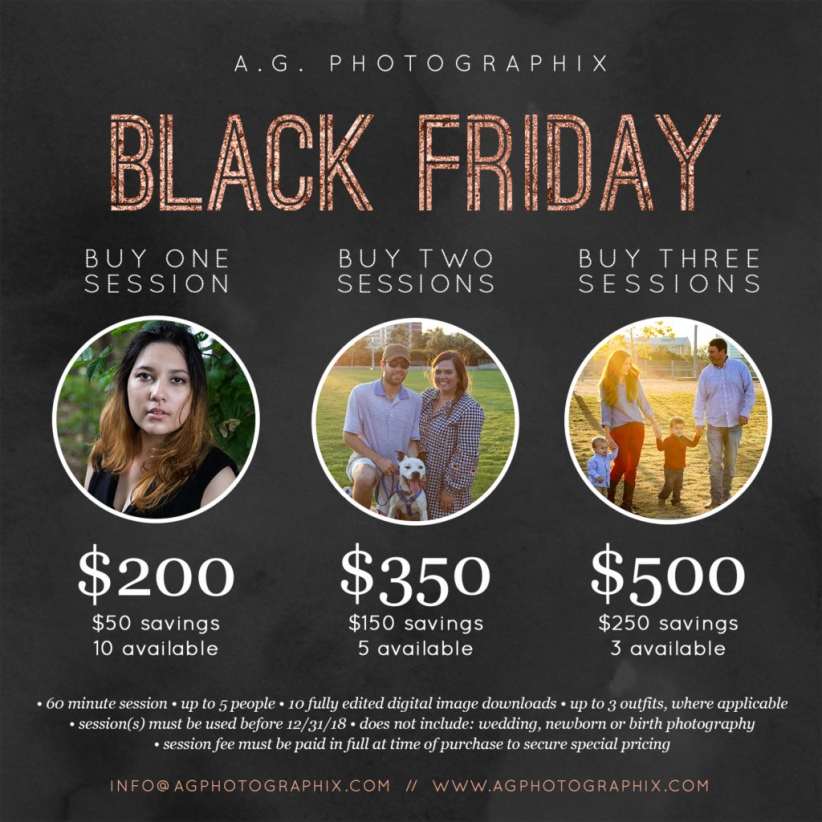 This Black Friday I have a great deal for you! If you purchase your 2018 session- don't worry, you can book later!- on Friday, November 24, 2017 you can save up to $250!
There are a limited number of these specially priced sessions available, so make sure you act fast!
So…here's the deal!
Buy ONE session and save $50! (10 available at this price)
Buy TWO sessions and save $150! (5 available at this price)
Buy THREE sessions and save $250! (3 available at this price) –> With this deal, you buy two and GET ONE FREE!
AND! If you purchase one of these Black Friday deals, you'll be entered to win a $150 print credit!
What's included in the session:
• 60 minute portrait session for up to 5 people, at the location of your choice (within the greater Houston area.) Please keep in mine that some locations have photography fees that you will be responsible for, but we can discuss this when we plan your session!
•up to 3 outfits, where applicable
• 10 fully edited digital image downloads
The fine print:
• These sessions must be used between January 1, 2018 & December 31, 2018.
• Portrait session date is subject to photographer availability.
• Session must be paid in full at the time of purchase.
• Cannot be combined with other offers.
• If you are gifting your session(s) to someone else, please let me know.
• Does not include: wedding, newborn or birth photography
• Amount paid is non-refundable.
• Once session is scheduled, cancellations require 48-hour notice, unless an emergency occurs.